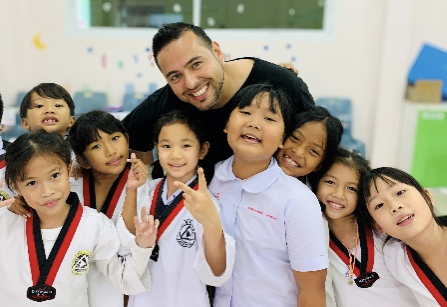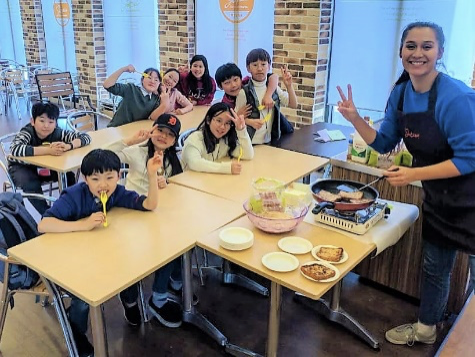 Cross cultural overseas Camps
What is the philosophy of Footsteps Cross-Cultural Learning Camps? 
 Our Cross-Cultural Learning Camps are all about relationships and friendships. Whenever we go to minister in another country the first thing we try to find out is, "What are some of their greatest needs?"  Some say food, clothing, medical or job skills. But we often hear, "We need your language—English." As we help them with the needs they have expressed, we gain an opportunity to share with them what is most important—a relationship with Christ.  
In most of the locations where they desire to learn English, the children are already studying English in school or in after school programs. These students primarily need help with their conversational English. It is a valuable opportunity to talk to a native English speaker and learn their pronunciation and idioms. Speaking another language can be intimidating, so we want them to feel comfortable and confident. We do this by building friendships and relationships. As you share your language and develop friendships with the kids, you also gain a great platform to share more of the story of Christ and our faith. This is the foundation for our camps. We strive to present Christ in the way we interact with the students, being ambassadors for Him in a Cross-cultural setting.
What are the qualifications to participate on a team? 
You do not need to be a trained teacher, because there is a place for everyone. Some people like to teach, while others like playing with children. Some have musical skills, and others like to cook. We utilize a background check service to help ensure team members' appropriateness for working with children. Apart from that, the only requirements are a heart for God and a willingness to serve. 
What do we do at a Cross-Cultural Learning Camp? 
 Cross Cultural Learning Camps help children in a variety of countries improve their English skills, enhance character development, learn some skills (science, cooking, etc) and expand global understanding. 
Our Camps often partner with a local church to promote and develop the Camps. This is an opportunity to assist the local church with both outreach and on-going ministry. Additionally, some of our camps work in closed countries where we must be careful and wise with how we share our faith. Footsteps strives to look at the long-term goals of evangelism, and carefully plant seeds where God gives us opportunity. 
Wherever we are in the world, the goal of our Camps is to build friendships, learn from each other, and graciously share the love of Jesus with the people we encounter.
How does a typical Learning Camp schedule look like? 
 A typical schedule might be:
Morning – Classes in English led by the team volunteers based on the curriculum provided. Subjects might include Food, Clothing, Transportation, Work, Recreation and United States Culture.
Afternoon – Fun classes filled with activities. For example: story time, music, crafts, Bible Stories, team building, cooking, science, real life simulations or sports. Some days, we even take students on exciting field trips. 
Evening – Time for homework, games, or a continuation of an afternoon activity.
Click here to download a full schedule sample
What is provided for me? 
Training: Footsteps will prepare the team with comprehensive training. Training includes cultural sensitivity, country specifics, teaching tools, curriculum preparation, planning for the trip and other topics. 
Resources: Footsteps will provide you and your team with all of the resources and the plans you will need to lead fun and interactive activities with the students – from craft supplies to sports equipment. 
Arrangements: Footsteps works in conjunction with local partners in each country to arrange food, transportation and lodging.  
If you are registering for an upcoming trip, click here.
Footsteps runs cross-cultural learning camps that teach English as a second language (ESL) to children from all over the world. Footsteps camps are special because they emphasize making friends with students in combination with fun, interactive classes. This allows our volunteers to encourage development of conversational English skills and also to share lessons from our Christian faith. These English Learning Camps take place in the U.S. and other countries including Korea, Taiwan, Thailand, and China.
If you are interested in learning more about our English Learning Camps as a participant, click here.
If you'd like to volunteer for one of the many service opportunities at our U.S.-based camps, click here.
If you are registering for an upcoming trip, click here.
To see more information on our USA ESL camps click here.